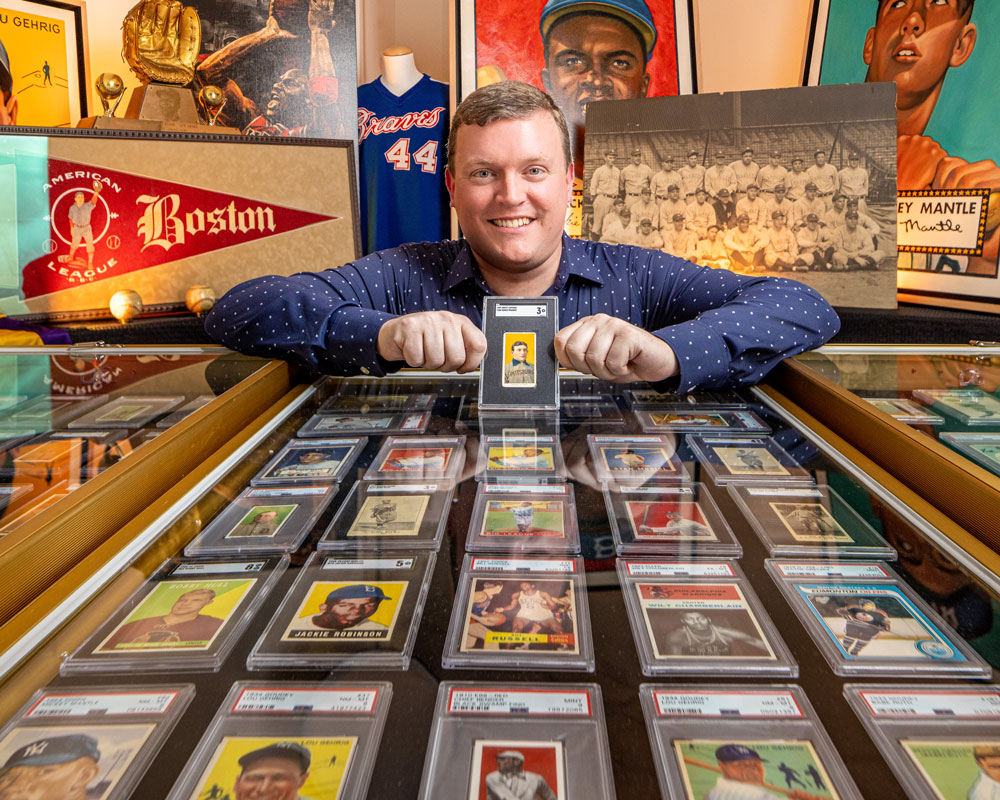 Brian Dwyer, President
From his earliest days as a six-year-old poring over the newest Topps set to the present day handling some of the world's finest sports collectibles, Brian's passion for the hobby has never waned. A lifelong collector, his introduction to the hobby was through baseball cards, which remain his primary area of interest to this day.
Keen to buy, sell, and trade through the internet, Brian caught the bug for connecting buyers and sellers through e-commerce, running a small consignment business on eBay in the early 2000s. In 2007, he was presented with the opportunity to lead business development for Sportscard Guaranty (SGC), one of the hobby's top third-party authentication services. Representing the company at trade shows throughout the United States and Canada, as well as serving an important role in the day to day operations of the company, gave Brian a robust exposure to all areas of the hobby while building his knowledge of cards exponentially.
In 2010, Brian decided that the transactional side of the business was of greater interest so he left SGC and leaned on his experiences from eBay, which provided the genesis for the formation of a standalone auction platform dedicated exclusively to sportscards. At the time, his company was among the first to cater to buyers and sellers at a level not serviced by traditional large auction houses. Brian was able to carve out a niche as a reliable and trustworthy auctioneer delivering quality product with an unparalleled level of service. His work did not go unnoticed, drawing the attention of REA founder Robert Lifson, who reached out offering an opportunity to join REA. Brian jumped at the opportunity to join the best auction house in the business, and in 2012, he sold his company (which still operates under the new ownership to this day) to focus entirely on the new task at hand: grow the hobby's premier auction house. He set to work right away, leveraging the company's incredible reputation and resources to expand the auction schedule from one per year to two. Adding another auction required even more material, so Brian overhauled the company's advertising and promotion, introduced new technologies into existing processes, and modernized many of the company's practices to allow for the expansion. The results were immediate, with record sales the first year in his role. Year over year, REA turned in impressive results while continuing to refine their industry-leading approach. In 2016, Brian assumed ownership of REA upon the founder's retirement and continues to build REA's leading position in the industry.
Today, Brian is actively involved in all aspects of REA's business, ensuring that buyers and sellers alike experience REA's legendary commitment to honest and transparent dealings in an environment built on trust. He works closely with clients on both buying and selling and is universally respected for his insight and guidance as a leader in the industry. He has worked to secure countless significant consignments, including some of the most valuable items ever sold by REA, and understands, as a collector, what clients experience throughout their decision-making process. Brian has been featured as a guest and expert in several national and international media outlets, including ESPN, Fox Business, CNN, ABC News, CBS, Cheddar TV, Daily Mail, Forbes, Barron's, The Boston Globe, and The New York Daily News.